Monoclonal antibodies targeting small molecules for diagnostic & therapeutic use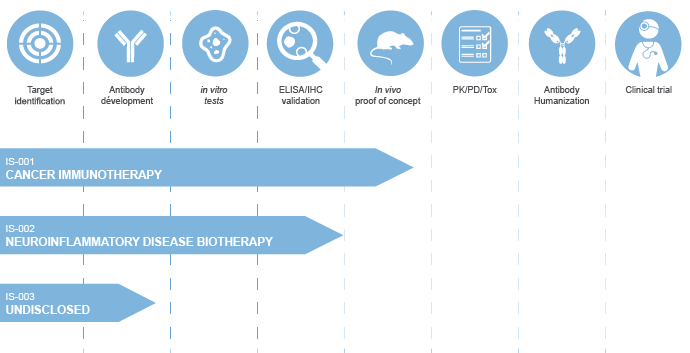 ImmuSmol is developing 3 personalized medicine programs based on proprietary monoclonal antibodies raised against pathometabolites.
Advantages of small molecule antibodies for therapy
A vast class of unexploited drug targets - small molecule antibodies can interfere with metabolites, neurotransmitters, hormones, cofactors, …


Highly specific therapeutic intervention - Small molecules can be modulated without disrupting entire signaling pathways.


A personalized medicine approach - compatibility with ELISA and IHC detection affords straightforward companion diagnostics strategies.
Core benefits of monoclonal antibodies
Now accounting for over 60 % of top-selling drugs, monoclonal antibodies feature attractive pharmaceutical properties:
High specificity & affinity, thus increasing treatment efficacy while reducing side effects.


Long serum half-life, allowing less frequent and lower dosing.


High reproducibility and availability, complying with industry standards for quality and scalability.


ImmuSmol partnering strategy
ImmuSmol builds alliances with large pharmaceutical companies to accelerate product development, through:
Early partnering - co-development agreements at preclinical stage.


Out-licencing - licensing agreements at clinical stage.