L-Asparagine is a conditionally non-essential amino acid that can be produced in our body. However, Asparagine (Asn) is essential for the growth of highly proliferative cells such as cancers and it must be provided by the environment. Targeting Asparagine using recombinant Asparaginase – as to deprive tumor cells of an important energetic source – thus represents an attractive target and has been for instance approved for the treatment of Acute Lymphoblastic Leukemia (1).
Also, while targeting Asn metabolism figures as an attractive therapeutic avenue, Asn level constitutes a valuable biomarker. Indeed, among other evidences, it has been shown that quantification of Asn nicely discriminates healthy subjects from patients with Epithelial Ovarian Cancer (2). More recently, increased Asn level has been linked to poor survival in female patients with colorectal cancer (3).
Altogether, this set of information motivated our interest in developing a robust immuno-assay to accurately quantify Asn in biological fluids. We finally developed and validated a novel ELISA kit (#IS-I-1600R) for Asn quantitation in plasma samples – an assay requiring a sample volume as low as 20μL and characterized by a limit of detection of 2.3µM and a limit of quantification 4.4µM.
Sensitive & easy-to-implement
Typical standard curve obtained with the Asn ELISA kit (#IS-I-1600R) where the optical density is inversely correlated with Asn concentration within a range of 4.4µM – 375µM.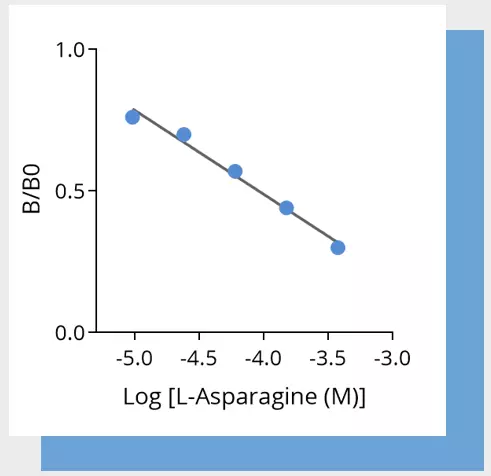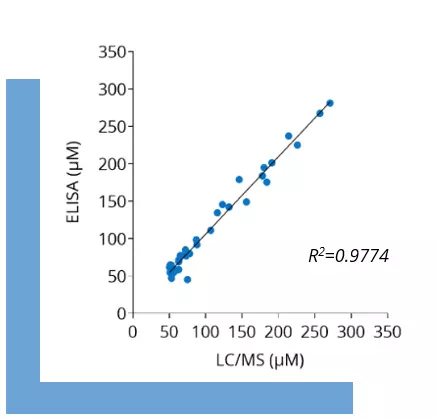 Cross-validated with LC/MS
Asn was quantified in human EDTA plasma samples from 40 subjects using IS-I-1600R ELISA kit and by LC/MS. Correlation between both methods gave a R-squared value above 0.97, thereby confirming the accuracy of the immunoassay.
Special release offer

Valid until June 5