While being neglected for decades, tumor immune escape is now considered as a new paradigm that promotes tumor growth and evasion. Besides the prototypical PD1 / PDL1 axis, several mechanisms have been identified as important actors in immune editing process. Indoleamine 2,3 dioxygenase (IDO1), a first rate-limiting enzyme of the Kynurenine pathway, has been described to favor tolerance and immune escape through the production of a series of metabolites, including L-Kynurenine. In this context, our ISE-2227 Kynurenine/tryptophan ELISA pack represents a powerfull tool to adress these metabolites.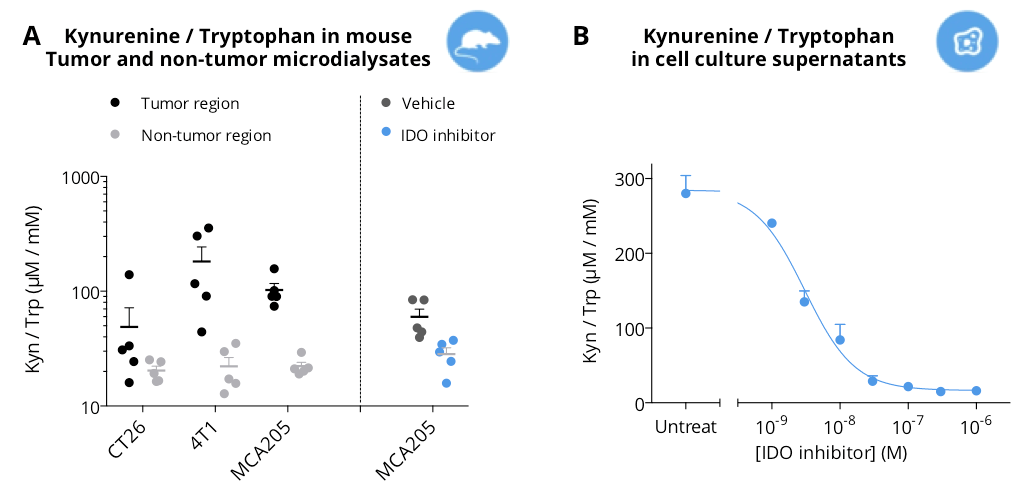 Versatile Kynurenine/tryptophan level measurement and characterization of IDO1 inhibition. A. Microdialysates were collected from intratumoral vs. non-tumoral regions of tumor-bearing mice inoculated with the indicated tumor cell lines, for the determination of kynurenine to tryptophan ratio (KTR). As illutsrated, KTR is higher in tumor regions when compared to their respective non-tumor regions thus highlighting the participation of this pathway in tumor progression and eventually in immunotherapy resistance. Interestingly, MCA205-tumor bearing mice treated with an IDO inhibitor (Navoximod) displayed a significant decrease in KTR within the tumor. B. Mature human dendritic cells (mDCS) were cultured together with HLA-mismatched CD4+ T cells (mixed lymphocyte reaction context) and exposed for 72 hours with increasing concentrations of a reference IDO1 inhibitor. Supernatants were then collected for kynurenine and tryptophan content measurement by mean of ELISA (ISE-2227 Kynurenine/tryptophan ELISA pack). Kynurenine content (through KTR) is dose-dependently decreased by IDO inhibition.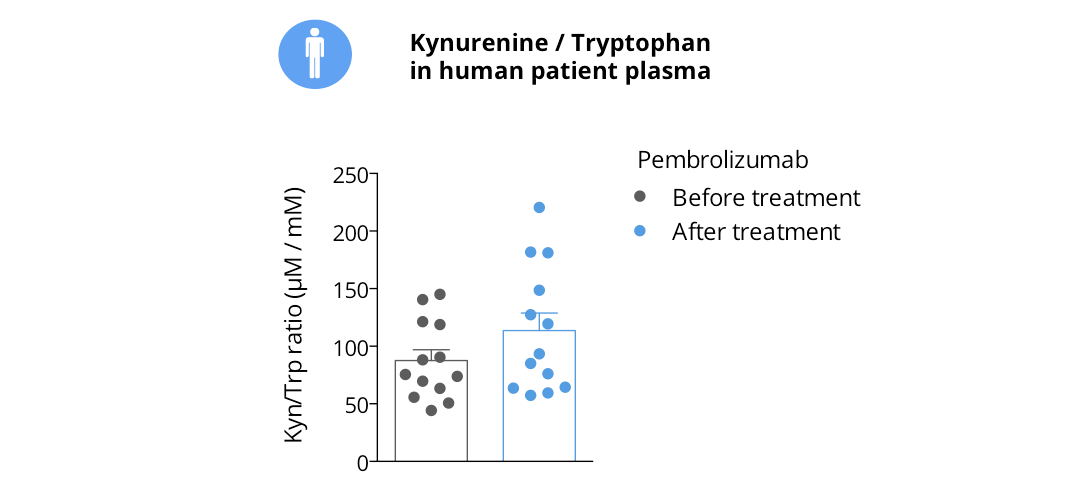 Assessment of plasmatic kynurenine/tryptophan levels in cancer patients. A cohort of patients with various types of sarcomas were treated with immunotherapy (Pembrolizumab) and plasma were collected before (at cycle 1, day 8)  and after (at cycle 2, day 8) the first infusion of pembrolizumab. Kynurenine and tryptophan plasma levels were measured by mean of ELISA (ISE-2227 Kynurenine/tryptophan IVD ELISA pack). A statistically significant increase in the kynurenine to tryptophan plasma ratio in patients during treatment was reported, underlying the role of the IDO1/kynurenine pathway in the resistance to PD-1/PD-L1 targeting in sarcomas (from Toulmonde et al., JAMA Oncology, Jan 2018).
To assess Kynurenine and Tryptophan levels in your samples,

To take advantage of this offer, request a special quote KTR19 at sales@immusmol.com.
Offer valid until October 10, 2019
.